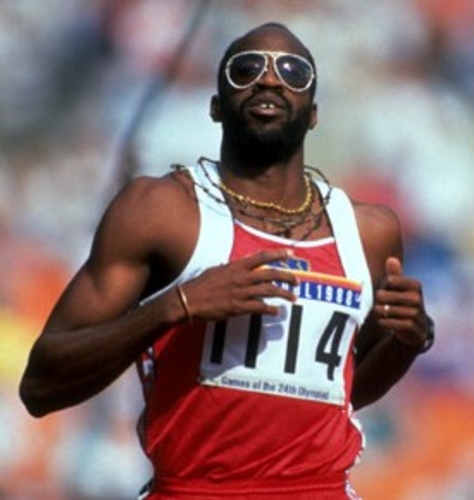 Who They Are: Track Athlete
Born: August 31, 1955 -
Edwin Moses is a track and field athlete who undoubtedly can be considered one of the best athletes of all time. He certainly can be called one of the most successful as in the last 50 years no other athlete has completely dominated his particular sport like Edwin Moses has. Edwin's signature race is the 400 meter hurdles and between 1977 and 1987 Edwin went undefeated, winning an amazing 122 consecutive races and 107 consecutive finals. During that 10 year time span he was untouchable, setting the world record 4 times and winning Olympic gold medals in 1976 and 1984. Of course he would have won in 1980 had there not been a boycott of the Olympics.
In a sport where the prime of an athlete is 2 to 5 years, Edwin Moses accomplishments are unheard of. In track and field there are new athletes emerging every year to run faster while you run slower, but in the case of Edwin Moses he beat every newcomer time after time. It seemed that there was no challenge that he could not overcome and his incredible dominance on the track is a testament to that. You can look at any team sport (i.e. basketball, baseball, football) or any individual sport (ex. boxing, swimming) and you will not find any more successful athlete than Edwin Moses. Truly he is the one of the greatest athletes of all time, and his excellence and consistency should serve as inspiration to us all.
Why They Inspire:
Edwin Moses was a revolutionary. He changed the way the 400 meter hurdles was run. He created a "13-step technique", which allowed him to run a consistent pace throughout the entire race and wipe out his competition who was forced to change stride at the race midpoint. His ability to study the game and change the way it was played is what made him a winner.
Edwin Moses was consistent. He trained hard at all times and was always prepared for his races. His nearly perfect record is a testament to his dedication to his craft. He reaped what he had sown through his championships, medals and list of honors.
Edwin Moses was both style and substance. Never a braggart, Edwin Moses did however have his own style and swagger. He wore his signature shades and his gold chains during his races, but he never let the style become more important than the racing itself. Whan a man so thoroughly dominates so many other men for so long it could be easy to become egotistical both on and off the track. By most accounts this was not the case with Moses as he remained humble during and after his career.
Edwin Moses did it the "right way". Never involved in scandal and doping, Edwin simply ran better races than everybody else. After his career he has been instrumental in helping create anti-doping policies for track and field to keep the sport pure and the sanctity of records (like his) intact.
Originally posted in
Inspirational People
at AfroDaddy.com
Posted By:
Friday, July 1st 2011 at 4:02PM
You can also
click here to view all posts by this author...